Cruise Control - Blue Single Strand Waistbeads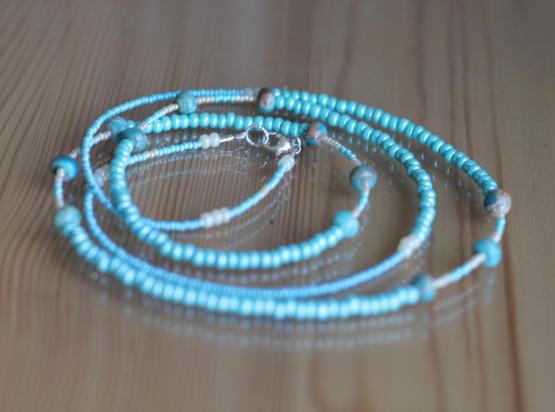 Cruise Control - Blue Single Strand Waistbeads
"Cruise Control"
is a single strand of waistbeads that feature real gemstone imperial jasper rondelle beads in the color of chocolate/turquoise/cream swirl. Turquoise/Light blue and creamy eggshell-colored glass seed beads set the stage to show off the jasper. Jasper sustains and supports you during times of stress and brings tranquillity and a feeling of wholeness. Used in healing, it unifies all aspects of your life.

These waist beads are secured using high quality beading wire for strength and durability and are finished with a sterling silver clasp.
*Safe for showering in*

All waistbeads are one-of-a-kind custom made to fit your specified waist size. Please select your waist measurement reflecting where your want your waistbeads to hang.
If you do not see your waist size listed, please choose the nearest size and indicate your exact size in a note when ordering. Larger and smaller sizes are available.
Find out how to measure yourself here